Typography Center for Contemporary Art together with the Goethe-Institut Moscow present Training Fantasia exhibition — a part of special program and the Pop-Up-festival of German culture and the German language in Krasnodar within the framework of the Year of Germany in Russia 2020/21.
Participants: Josefin Arnell and Pauline Cournier Jardin, Jesse Darling, Valia Fetisov, Cyprien Gaillard, Giorgi Gago Gagoshidze, Marina Naprushkina, Kirill Savchenkov, Sofia Skidan, Aleksei Taruts, Katerina Verba
Curators: Elena Ischenko and Marianna Kruchinski
The exhibition will bring together 11 artworks created by artists from Germany, Russia and other countries: art research, films, interactive installations, performances and much more. Each work in its own way comprehends the idea of ​​the weird, supernatural and frightening, and also fantasizes about possible configurations of the present, future and past; oversight and trust; political and bodily; social and superhuman; technological and sensual.
Exhibition Team:
Design: Anna Filatova
PR support: Anna Naumova
Editing: Anna Litovskihk
Technical support: Misha Kurilov, Pavel Blokhin, Vasiliy Chernenkov (Garage MCA), DJ Studio
Exhibition installing: Stepan Subbotin, Vasily Subbotin, Evgeny Rimkevich, Misha Kurilov
Mediation: Ilya Borisov, Iolanta Dallada, Alexandra Dyomina, Daria Kucher, Dayana Svyatenko
How do we define the experience formed from encounter with art? And how exactly is the experience of interacting with art different?
It's odd – trying to answer this question within the framework of a small exhibition text. But one way or another, each Typography event becomes an opportunity to refer to it again and again.
Our everyday experience is based on a system of perceptions and values that develop throughout life. Based on this experience, we make decisions and judgments, we take actions, which are, as a rule, predetermined and inert: similar situations provoke similar reactions.
The experience derived from art is different from the experience of everyday life. This experience is guided by objects of art that can take on a wide variety of forms – sculpture, sound installations, performances, films, printed graphics, and so on.
These objects are inextricably linked with the experience of everyday life, but they are able to suspend the work of given patterns of perception. Works of art provoke a reassembling of personal, collective and historical experiences, calling them into question.
Referring to the lecture of philosopher and artist Patricia Reed, we can say that objects of art, by presenting something in a different way, stimulate imagination towards other configurations of the world and become conductors of possible (sensory) access to them. Art can participate in the construction of new conditions of experience that will resist adaptation to the rules of habitual logic.
But how can art actualize these possibilities?
Discussing the works that we included not only in the exhibition, but also in other blocks of the Training Fantasia program, we voiced the idea that new experience becomes possible when it comes from the point of instability and uncertainty – the point at which our usual logic of perception ceases to work. Such a point is – fear, feeling "not on my own", arising from collision with something that we perceive as "alien", "inexplicable", "unseen".
Speaking about fear and instability, philosopher Alla Mitrofanova singles out two possible logics for overcoming it. The conservative one is predetermined and adaptive: it presupposes the strengthening of hierarchies and control, the flourishing of conspiracy theories and the position of a suspecting subject, who is deprived of the possibility of [political] action, thinking that everything is predetermined in advance. Although the conservative approach presupposes the construction of non-existent worlds, it is based on existing hierarchies and proceeds from a given order of things.
The experience of fear and instability (amplified by pandemic) can become a source of non-adaptive logic that allows you to see / imagine the already existing world, history, ourselves, the collectivity in which we live and interact, our body in a new way – as something complex, unfinished and open.
In this exhibition, we tried to collect just such works – strange and provoking a feeling of uneasiness, exploring the boundaries of control and trust, reassembling the bodily, political and historical, technological and sensual, social and supernatural. They are made by artists working in different countries and in different contexts, with different mediums and materials. Their heroes are football fans and mermaids, cats and ghosts, refugees in Germany and Crimean Tatars, Red Fox and Ocean returning to their homes, lost body parts and felled cypresses. We hope that their (unexpected) meeting at the center of contemporary art in Krasnodar will become an experience that opens up the way for transformation.
Elena Ishchenko
Josefin Arnell & Pauline Cournier Jardin
Mudde'n' Muddle explore environmental disaster

2018
Film 4'36"
Courtesy of the artists and Ellen de Bruijne Projects
Josefin Arnell is an artist and filmmaker based in Amsterdam. Through autobiographical exorcisms, Josefin Arnell mixes the semi-fictional with the fictional, drawing from personal experiences, fascinations and preoccupations to trace a non-linear imaginary of narrative connections, creating films, installations, drawings, etc. Her practice speaks of birth and fear, of human needs and anxieties, of absorption and rejection. Josefin introduces the creature as a metaphor to disclose the many ways humans fail at living together on this planet, and to problematise how we abuse it, harass it, and make it sick – as a parasite or a toxic friend would: with an unquenchable thirst, slowly but relentlessly, in a persistent state of denial. 
Pauline Curnier Jardin is an artist, filmmaker and performer, born in Marseilles, France, who lives and works in Amsterdam and Berlin. "Comic troopers, bearded women, tamers of the jumping bean: when interrogated about how I come to do art and what my artistic motivation is, my mind wanders to the fair and the carnival, to a freak show of characters, a gallery of species, substances and stories. I am a thwarted anthropologist, a wanna-be witch, a profane devotee, a poet and a butcher", says Pauline about her practice in which she explores expanded forms of narratives—such as an optic-opera, an ethnographic-peep-show, and some movie-performances.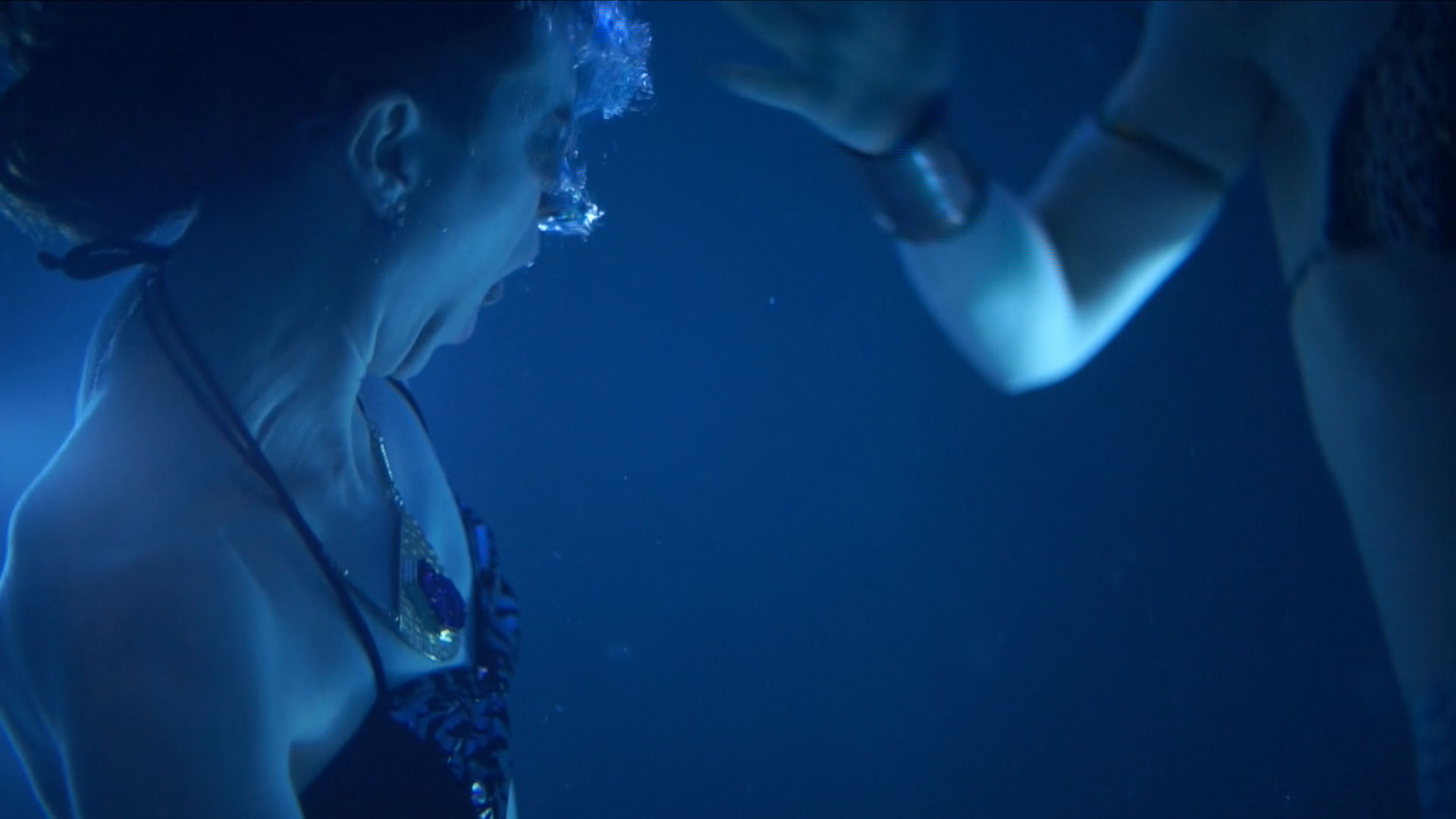 Katerina Verba
Cypress Rehabilitation
2021
Cypress beams, sprouts and cypress seeds, video, photos, archival materials
Courtesy of the artist
Katerina Verba is an artist and curator based in Novorossiysk. She works with the questions of identities  gender, national, ethnic, territorial, presenting her research and artistic practices in the form of installations and collective exhibitions.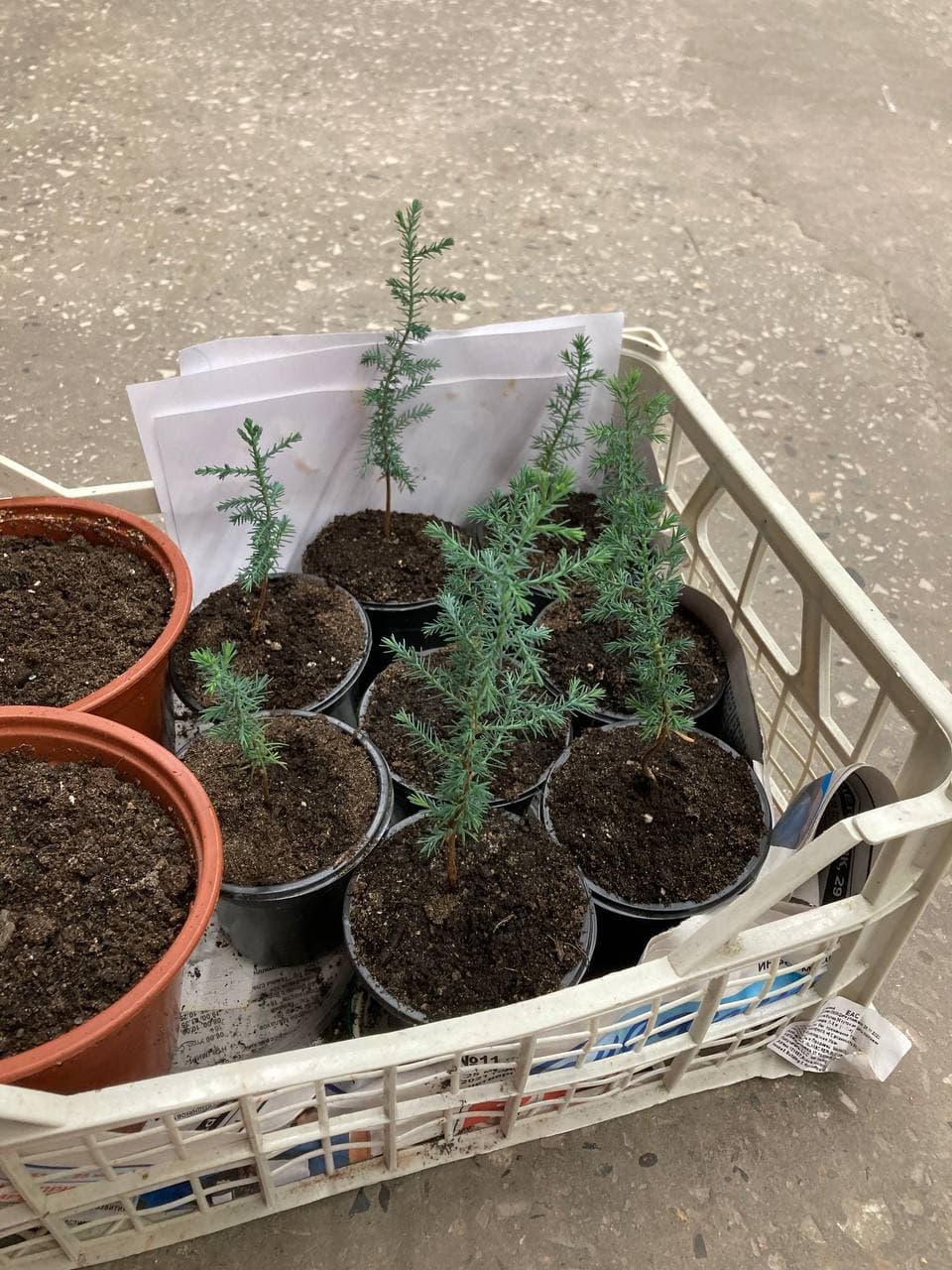 Cyprien Gaillard
Desniansky Raion
2007
Video, colour, sound, 30'
Soundtrack: Koudlam
Courtesy of the artist and Sprüth Magers
Cyprien Gaillard works with video, films, photography, installations, sculpture and photography. His artistic practice is closely related to visual archeology — images of the destruction of physical objects and the erosion of their social meaning. In his works, that often refer to ruins as the future of architecture and the idea of repeating time, he embraces a poetry of entropy that rearranges history to shed new light on the present.
Gaillard lives and works in Berlin.
Desniansky Raion, 2007 (film still)
Copyright Cyprien Gaillard
Courtesy of the artist and Sprüth Magers
Giorgi Gago Gagoshidze
The Invisible Hand of My Father
2018
Film, 24'02"
Courtesy of the artist
Giorgi Gago Gagoshidze is a filmmaker and artist whose artistic practice is built around moving images: the political aspects of their production and the socio-political context. Giorgi was born in Kutaisi (Georgia) and lives and works in Berlin (Germany).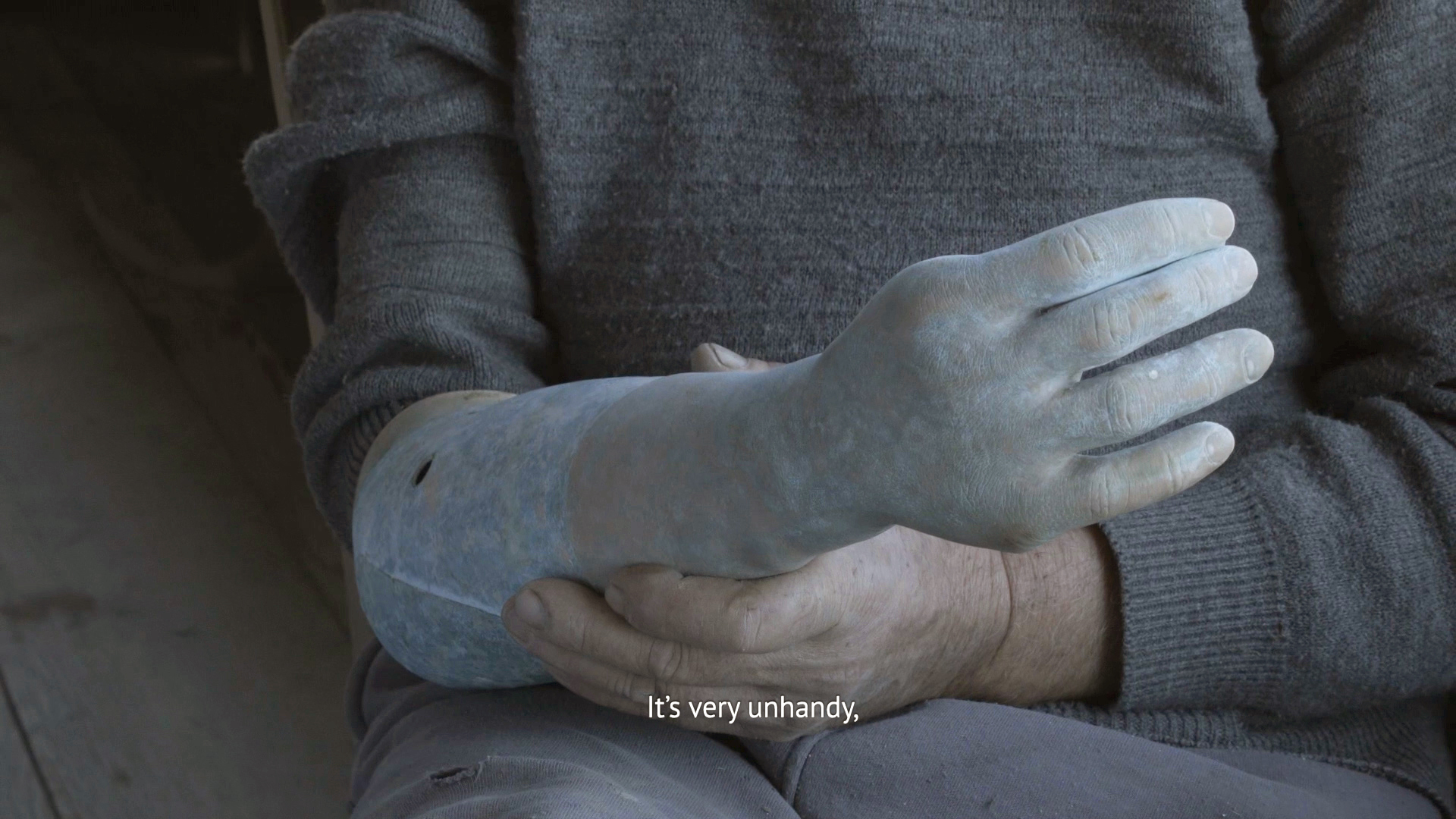 Jesse Darling
Cultural Artefacts from the Nonexistent Archive (Various)
2020–2021
Prints
Courtesy of the artist
Jesse Darling is an artist based in London and Berlin whose sculptures, drawings and objects consider the social, physical and narrative body as a site where architectural, (bio)political and social structures manifest and become transformed.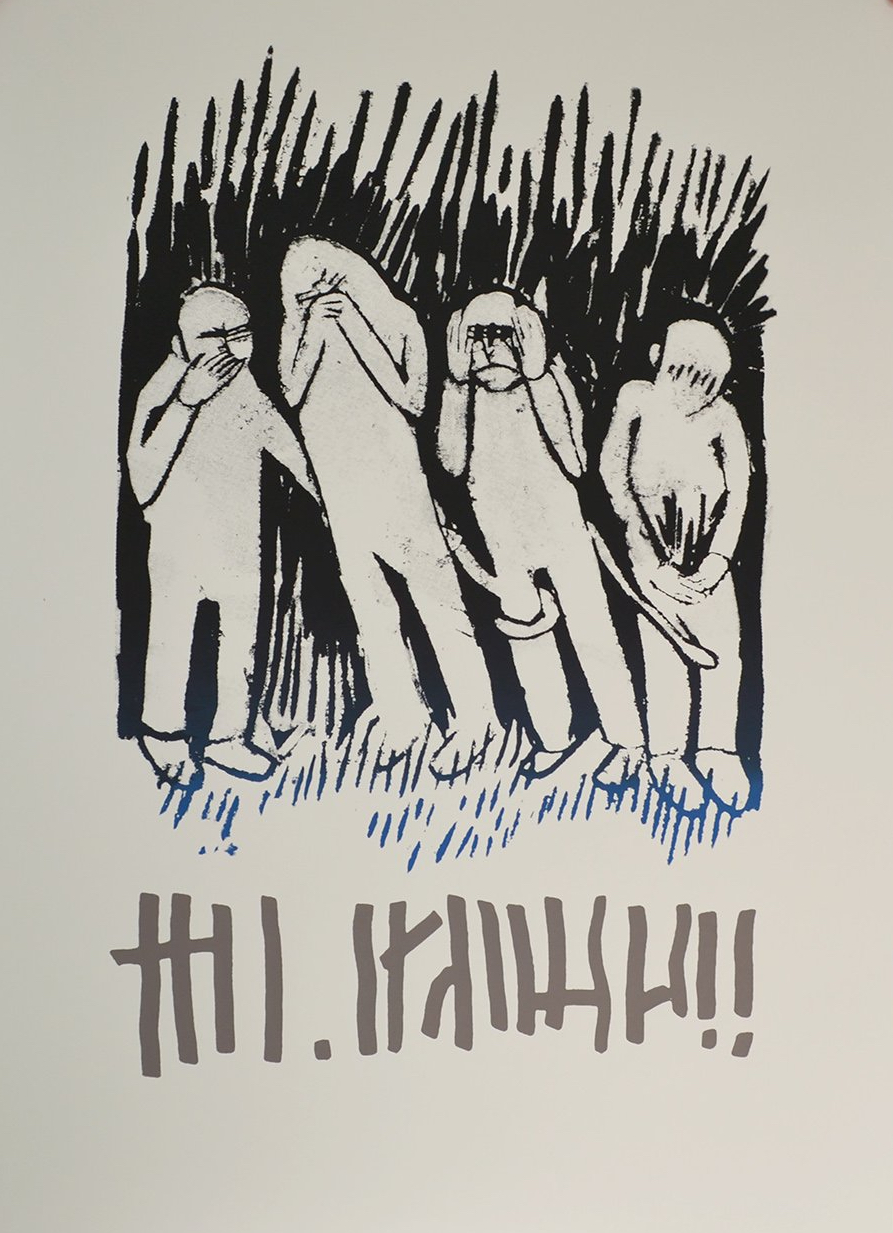 Marina Naprushkina
Your Fear — Our Capital, Your Hate — Our Mandate

2020
C-prints, acrylic on canvas 
Courtesy of the Arsenal Gallery (Bialystok, Poland)
August
2020
Video, 2'00"
Courtesy of the artist
Marina Naprushkina was born in Minsk, Belarus and is now based in Berlin, Germany. She is a political feminist artist and activist. Her diverse artistic practice includes video, performance, drawings, installation, and text. Her work engages with current political and social issues. Naprushkina is mostly working outside of institutional spaces, in cooperation with people, communities and activist organizations. Naprushkina is focusing on creating new formats, structures, and organizations based on self-organization overlap in theory and practice.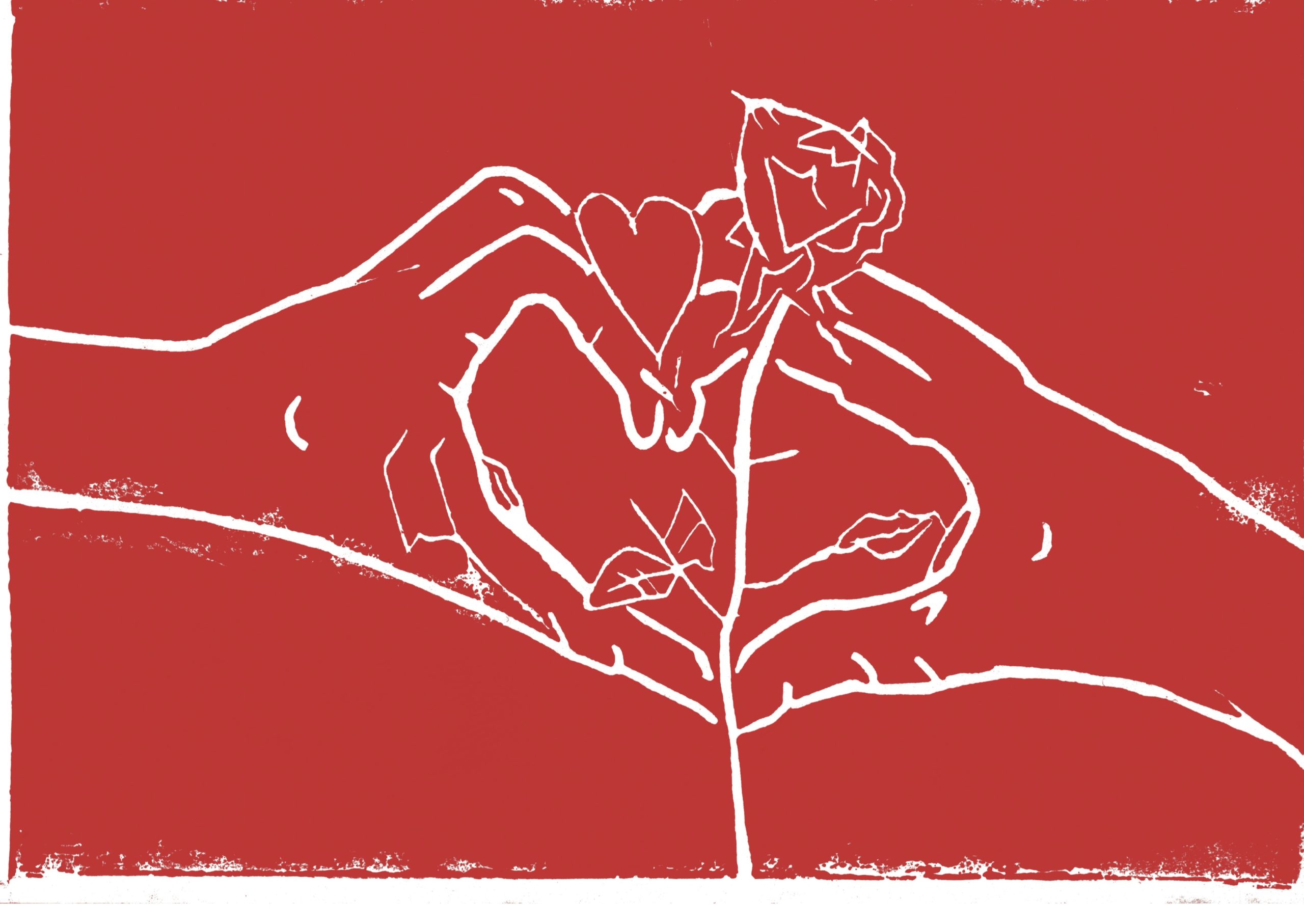 Kirill Savchenkov
Firework and Gunpowder: the Boiling Mist

2021
Role action game play, environment
Courtesy of the artist
Performers: Ilya Borisov, Alexandra Dyomina, Daria Kucher, Anna Mayorova
Kirill Savchenkov is an artist and teacher who lives and works in Moscow. Kirill works with various media including mediated sculpture, installation, performance and sound. His artistic practice investigates the questions of hidden power and violence formations, new traumas acquired within production, experience, power and culture. The works highlight the metabolism of technology, informational autocracy and media weaponisation.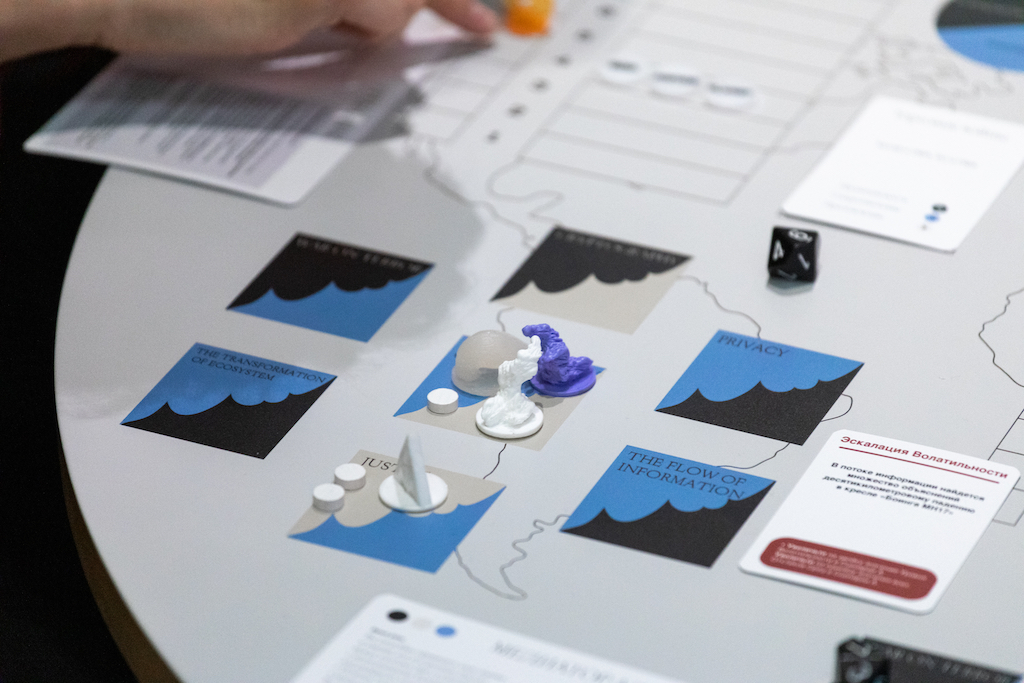 Sofa Skidan
How can you describe the weirdness that is not assembled enough. P. 1

2021
Installation, video (colour, sound), sculpture (wood, plastic, silicone, organic elements, fabric)
Courtesy of the artist
Production team: 
Cameraman; Yaroslav Golovkin 
Producer: Anna Pronina 
Sound-design: Kira Weinstein 
Color correction: Anton Zimerman 
Voice: Anya Kravchenko 
Designer: Mila Ovchinnikova
Sofa Skidan is an artist who works with installation, performance, sculpture and video. Her artistic research focuses on questions about perceptions and transformations of identities in the context of technogenic culture, environmental instability and the anthropocene. Her work is a site-specific installation, in which artifacts of post-digital reality are combined with elements of a lost natural landscape, and Eastern spiritual practices with modern Western critical theory, reflecting the problems of our time. She lives and works in Moscow.
Aleksei Taruts
Golden Hits
2021
Mixed media installation, video, performance
Courtesy of the artist
Aleksei Taruts is a transmedia artist, whose practice mainly includes performative and situational works, as well as installations in mixed media. The key issue in the artist's research is the problematization of the concepts «event», «presence», «evidence» as units of symbolic exchange. The artist interprets the ways of presence and distance in relation to the event, shaped by the affects of the cultural industry of the era of late capitalism. Taruts sphere of interests also includes irrational manifestations caused by technologies of instant representation and dispersion of attention, as well as the type of memory created by unstable connections.
Valia Fetisov
User Flow
2019 
Installation
Courtesy of the artist
Valia Fetisov is an artist and software engineer interested in the intersection of social psychology and technology. He works with constructing artificial situations to explore people's reactions. In his practice, he often alters standard algorithms and works with automatic systems in order to bring into view their ambiguous nature, making them take on a threatening, rather than auxiliary form. Currently he is working on the postgraduate project on Surveillance Architecture at the Academy of Media Arts in Cologne.